Sleeping in our beds is where we spend, on average, 30% of the day. Rest is an integral part of our day to function properly. We've all tried going to school or work when exhausted and it sucks. When you love your bed, your nice mattress and the comfortable setting of your room, you can get a much better night sleep.
The bed is generally the centerpiece of the bedroom. Having a great room design can have a major impact on how you feel when resting and we highly recommend finding a bed that makes you smile when finally laying down. The best part of finding that bed is that there are so many designs to fit everyone's personally tastes.
Modern Platform beds has been trending on social media as "In-style" for its simple aesthetics that brings the entire bedroom together. Many of the most popular designed were actually inspired by Japanese beds. We've listed 7 Minimalism inspired Modern Platform Beds for you to get a feel of and introduce you to the world of cool.
A clean, Dakota faux leather Platform bed by DHP is the epitome of luxury and affordability. At $98+, it's an amazing deal for a contemporary look. It has an upholstered headboard that is padded.
The DHP Platform Bed comes in a Twin, Full or Queen size. You also have three colors to choose from which are: Black, Brown and White. It's simple to put together and surprisingly simple to clean. It comes with 24 Bed Slats and doesn't use or require bed springs (you have the option to use it).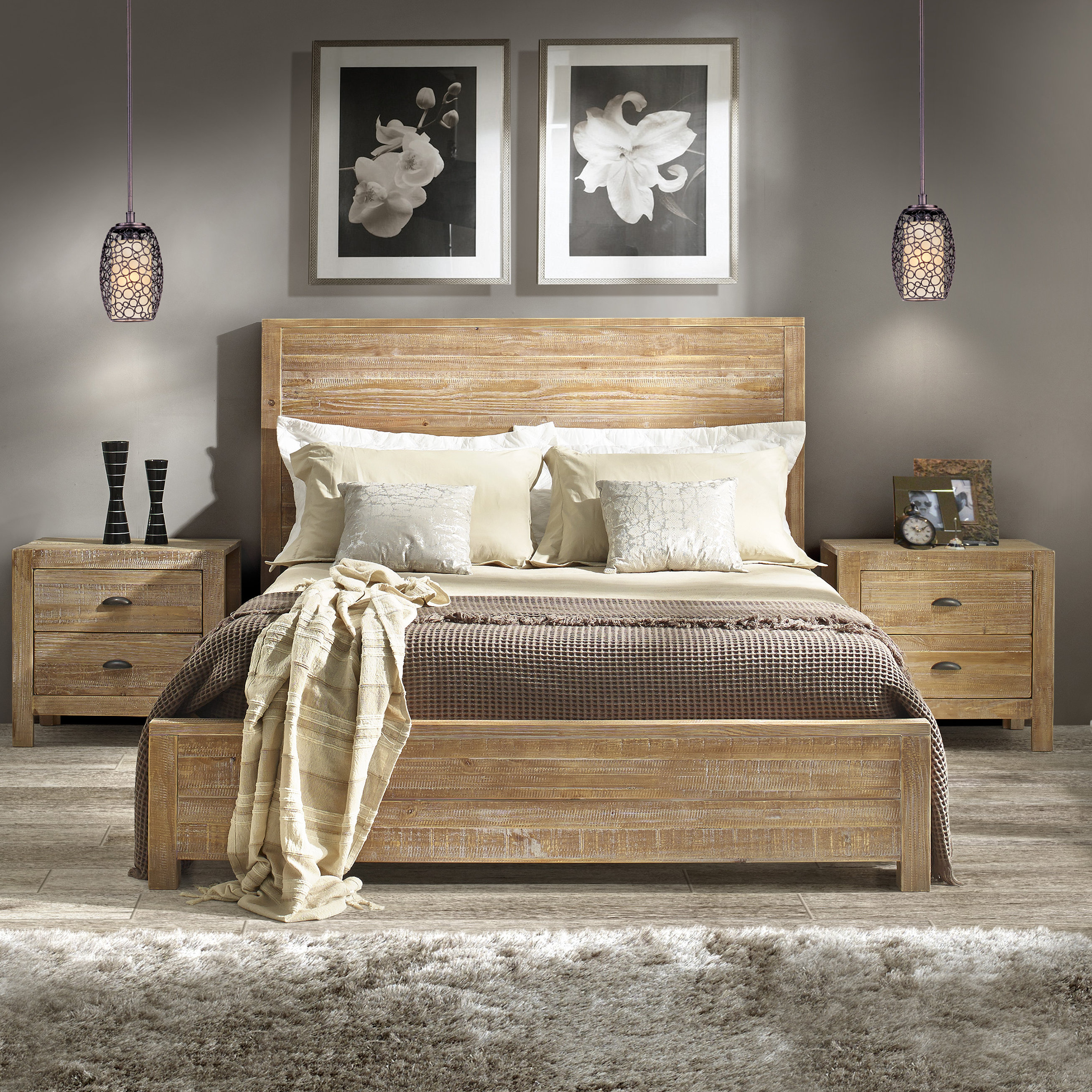 Interested in a rustic wood bed? Montauk Platform Bed will gladly peak your interest. It comes in the colors Driftwood(pictured above), Rustic Grey and Barnwood. You can choose between the sizes of Full, Queen and King.
This solid wood bed has a rustic chic look from eco-friendly designs.  The wood comes from renewable forests which provides minimal impact to the environment. The distressed finish of the wood is non-toxic and would fit wonderfully in the room of someone who wants a more natural look and feel.
Space saving with a modern twist. The Prepac Series 9 Designer bed has you organizing your stuff without needing a huge shelf stand. It comes with its double Floating lamp desk that's connected to the headboard and an extra storage shelf right at the foot of the bed.
The clean float-like feature of the headboard gives a heavenly vibe to the room. Available in Black or Brown, the Prepac Bed comes with an easy installation packet and even a video for those who need it.
Something for those who want something with character. The Liam Collection 2 Tone Bed makes one look with interest at the low profile of the bed. The smooth curvature and soft lines make it an easy bed to use for an open space type of room.
The refined design of the powerful yet subtle presence of the bed would be a great focal point of any room. The attention to detail is calming, which makes it much more worthwhile.
An exotic pick for pure luxury. In the modern age of interior design, we look to new and exciting looks that create a new feel inside of us. The Greatime Contemporary bed does just that. It appeals to our lustful desire of uniqueness to which very few can provide. The sleek curve of the bed pulls you in just to try it out.
Although it comes in at a high price, there are not many beds where you can have someone walk into a room and say "Woah, is that a bed?". The wow factor is included in the price.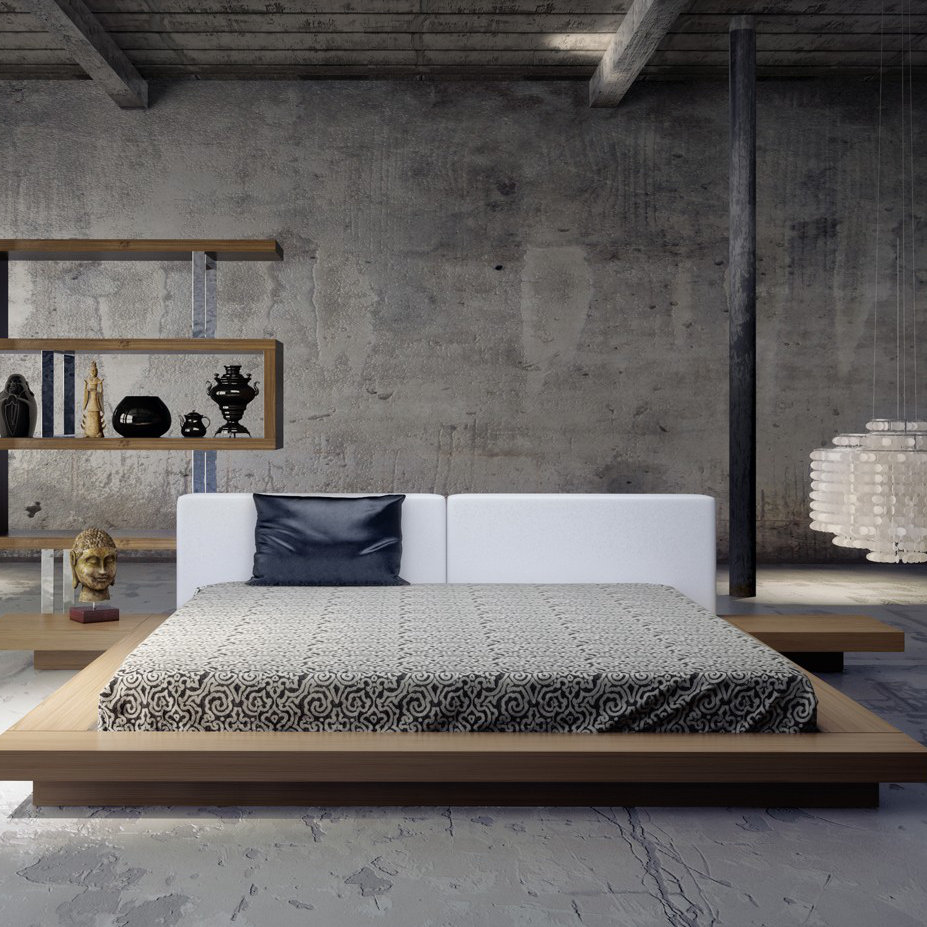 It's extremely hard not to fall in love with the Sloan Upholstered Platform bed. The sharp, conservative lines leave a strong presence in the room. If money is no problem, this is ultimately the #1 bed to consider for beauty, simplicity, space and of course love.
As many others, The Sloan Platform Bed isa  japanese inspired bed made from eco-wood. It's built with durability to provide years of good use. The bed comes in King, Queen and California King.
Elegance at an affordable price is what the Zinus Faux Leather Platform Bed brings to the table. If you're looking for a nice bed frame with a minimal price, the Zinus is a great choice for a simple easy to put up bed. It's sturdy and doesn't take long to assemble. At four and a half out of five stars on Amazon, the consensus of reviews are that the Zinus Bed is good bang for the buck option.
Technology has affected his generation like no other. His life experience has brought him to every avenue of life and writes about the tech that is involved.